Description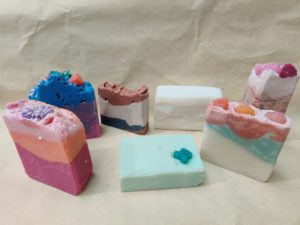 A special offer where you can embark on your soapy journey with three soaps!
Help reuse these wonky soaps. They didn't come out right or were used when we were trying new techniques. These are 100% safe to use, just like wonky fruits and veggies in the supermarket.
Perfectly imperfect!
Available while stocks last.
Please note that this is a handmade product and appearance will vary between batches and bars.
These soaps are cruelty free, vegan, plant-based, and contain skin safe fragrances and colours.
We have had our soaps independently tested and certified as safe to use.
All soaps contain: olive oil, responsibly sourced palm oil and coconut oil. The scent is either a fragrance oil or essential oil and we use mineral based colours in all our soaps.