Description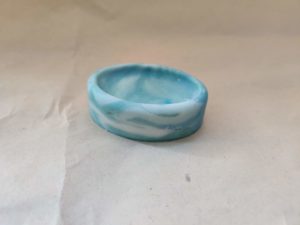 Inspired by a garden pond, peaceful swirling colours combine with the bright fragrance of petitgrain essential oil.
When we are allowed to go on holiday again, this calmly coloured and brightly scented soap will come with us – it is the perfect size for backpacks and suitcases, and lasts long enough for most holidays. It's also great if you are having guests round so they can use it during their visit.
Petitgrain is a light citrus fragrance. It is an essential oil made from the stalks of orange trees, and is perfect for soaps like this one.
Please note that this is a handmade product and appearance will vary between batches and bars.
These soaps are cruelty free, vegan, plant-based, and contain skin safe fragrances and colours.
We have had our soaps independently tested and certified as safe to use.
All soaps contain: olive oil, responsibly sourced palm oil and coconut oil. The scent is either a fragrance oil or essential oil and we use mineral based colours in all our soaps.