Description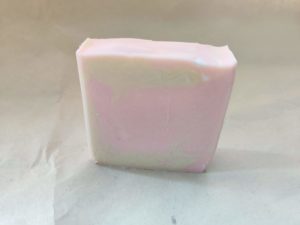 Please note that the nature of the natural colour and fragrance means this item will yellow over time.
A delicious smelling soap for people with a sweet tooth.
This soap is completely sugar free! With pink and ivory swirls and a scent just like candy hearts, this soap makes a great gift and encourages young children to wash their hands too.
The idea for this came from our seven year old niece, so thank you to her.
Please note that this is a handmade product and appearance will vary between batches and bars.The performance and fragrance is not affected.
These soaps are cruelty free, vegan, plant-based, and contain skin safe fragrances and colours.
We have had our soaps independently tested and certified as safe to use.
All soaps contain: olive oil, responsibly sourced palm oil and coconut oil. The scent is either a fragrance oil or essential oil and we use mineral based colours in all our soaps.